My goal is to publish a book of letters from those touched by cancer, sharing their thoughts, prayers, and hearts with their loved ones. The details will be posted soon, including format for content submission.
Below is my letter to my Grandmother, Elizabeth Anne Beck Grayson, which brought about my idea for the project.
Isabella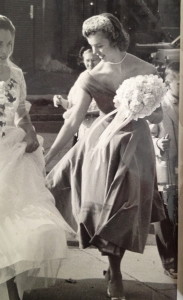 Grandma Betty
I never had the chance to hug you.
Not a single chance.
No, not even one.
You were taken from this world before I was born
Before I was even a twinkle in my parents hearts.
People who know you say I have your smile, your bright eyes, your joy.
When I see pictures of you it's clear you could light a room by just being there.
I often wonder, what secrets could we have shared?
What tears could we have cried together?
What memories could we have made?
What laughter and joy would we have known?
Would we have been friends? Confidants?  Kindred spirits?
Daddy says you had a joyful heart, big enough for the whole world.
Stories abound of your blissful soul, your infectious love for everyone.
You were here such a short time, but you left the world a better place.
Everyone says you had the gift to touch hearts.
No, you never had the chance to hold me, hug me, love me.
And I never had the chance to hug you, cling to you, be your little girl.
Gone before I arrived.  taken by cancer, something I don't understand.
I only understand that you are missing.
And I only understand that the love you left behind reaches me through the hearts of others.
I never had the chance to hug you, but you taught me that love lives on.
Love is passed on.
Love never dies.
And I hope and pray your love can live on through me.
Isabella